Van Meter Branding / Logo Use
These guidelines are intended to provide guidance for consistent and appropriate use of the Van Meter identity and style. If this guide does not provide the information you need, please contact the district at deron.durflinger@vmbulldogs.com.
Items denoted as official are to convey a uniform and consistent branding for the Van Meter Community School District.
Logos

The use of Van Meter logos are restricted to school-sanctioned functions. Any other party wishing to use the logo on merchandise, etc. need to contact the district for permission. Any use of generic Flying VM logos are not permitted or any attempt to create a logo in similar form to the Flying VM are also not permitted. Modifying logos in any way is not permitted (adding shadows, changing colors, adding text, etc).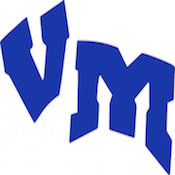 Flying VM - White
(it is there....on white)